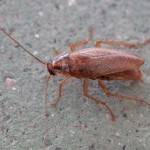 How to get rid of this?.To get a pest problem under control, inspection is the first and foremost step.
The German cockroach is one of the most common and prominent household cockroaches in the world, and can be found throughout many human settlements. These insects are particularly fond of inhabiting restaurants, food processing facilities, hotels, and nursing homes. In colder climates, they are found only near human habitats, since they are not very tolerant to cold. However German cockroaches have been found as far north as Alert, Nunavut.
The German cockroach is originally from Asia and very common in Russia, not in Germany. It is very closely related to the Asian cockroach, and to the casual observer they appear nearly identical and may be mistaken for the other. This cockroach can be seen in the day occasionally, especially if there is a large population or if they have been disturbed. However, sightings are most commonly reported in the evening hours as they are most active at night.
COCKROACHES
PEST CONTROLIn order to thrive, cockroaches need a place to hide.
The German cockroach is very successful at establishing an ecological niche in buildings, and is very hardy and resilient against attempts at pest control. This is because of the large number of nymphs produced from each egg case, the short period between birth and sexual maturity, and their ability to easily hide due to their small size.
Since this cockroach is smaller than many other species, it can more easily hide and fit into very small cracks and crevices to evade humans. That is also the main reason they can most effectively be controlled with bait in cracks and crevices near harborages. These type of pest control methods should kill 95% of the overall population in a property due to their fast reproductive cycles.
A-Best Pest can prevent COCKROACHES from becoming a permanent guest.
CALL TODAYWe accept all credit and debit cards!